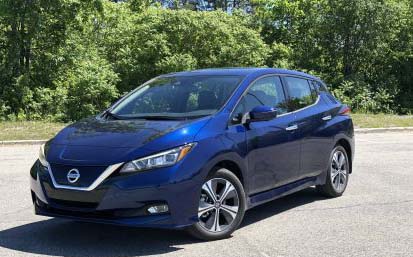 Electric Car Clinic
Stay Down On The Farm will begin hosting EV information sessions for guest soon. You will be able to see and drive a 2020 Nissan Leaf SL Plus. Its even got a few "self driving features". Having driven an electric car for the last 10 years we have something to share. You will understand and get some perspective on the present and future of Electric transportation.
Why? In 1985 I saw an article about a man that had put batteries in a volkswagon. He got 50 miles to the charge.
Sold!
Figured 50 miles would do 60% of my driving miles. It took a long time but in 2011 we were driving our first all electric car. Leased a Nisssan Leaf. Over 100,000 miles in these cars since the first one. To say it was amazing is an understatement.
We began installing solar in 2001 to light an event venue. A 10 Kilowatt system was installed in 2016 with the help of the USDA. A new charging station located at the Red Farm House on a sunny day would be charging from the sun.
Solar lights the saw mill and gardens. Its a gathering place for campfires and conversation. Think you will like both.
NEWS PROVIDED BY
Nissan North America Inc. Dec 21, 2010, 02:00 ET
"Electricity is the new fuel for cars, and the Nissan LEAF has the potential to transform the automotive industry and the way people drive," said Carlos Tavares, chairman, Nissan Americas. "Starting today, drivers in Nashville have the freedom to choose a future that produces zero tailpipe emissions, moves away from our dependence on fossil fuels, and represents the end of trips to the gas station. This Nissan LEAF delivery signifies the dawn of a movement that brings sustainable mobility to within our grasp." Nissan in July 2008 announced that it was entering into a partnership with the State of Tennessee and the Tennessee Valley Authority to foster the development of electric vehicle-friendly policies and an EV charging infrastructure. This collaboration was the first of its kind in the United States and has served as a model for other markets across the nation.
Tennessee Initiative
Drive Electric Tennessee
Statewide EV Charging Infastructure Assessment
Statewide EV Charging Infastructure Summary
Federal Initiative
Volkswagen Clean Air Act Civil Settlement
Requires Volkswagen to invest $2 billion in ZEV (Zero Emission Vehicle) charging infrastructure and in the promotion of ZEVs.